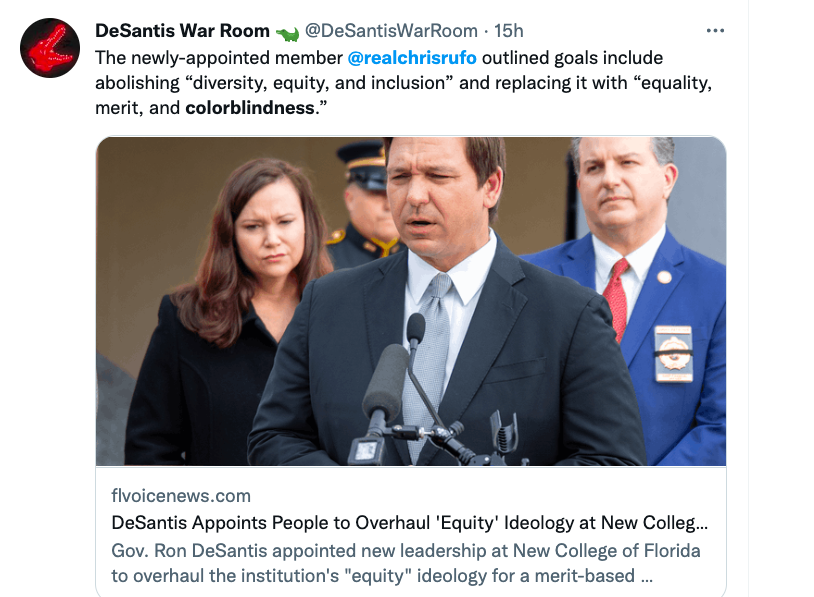 January 13, 2023
If Whites don't see race, then they won't see White Genocide.
Chris Rufo, preeminent opponent of Critical Race Theory and of child gender-blurring, is the star of the new Board of Trustees that Gov. Ron DeSantis has appointed to give a traditionalist overhaul to Florida's New College.
Chris Rufo is also a fervent supporter of White Genocide.
Don't believe it? Read on!
(Click on the below to enlarge it)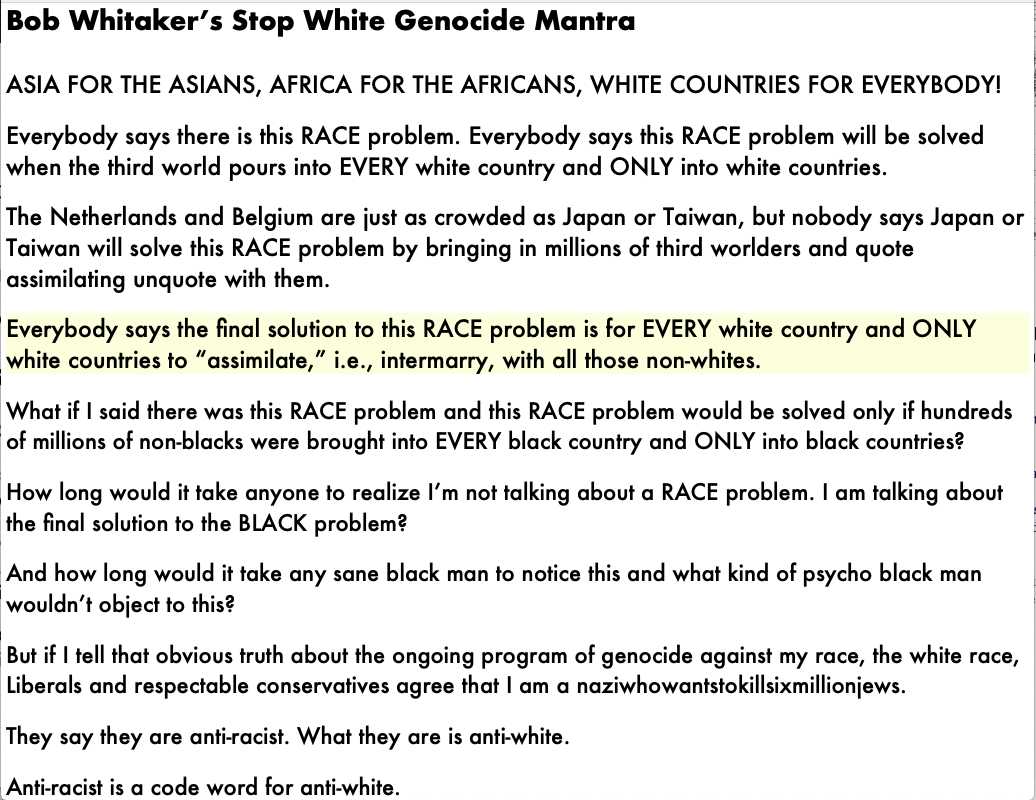 The highlighted sentence is EXACTLY Chris Rufo's view!
Click on his image below to hear him say it.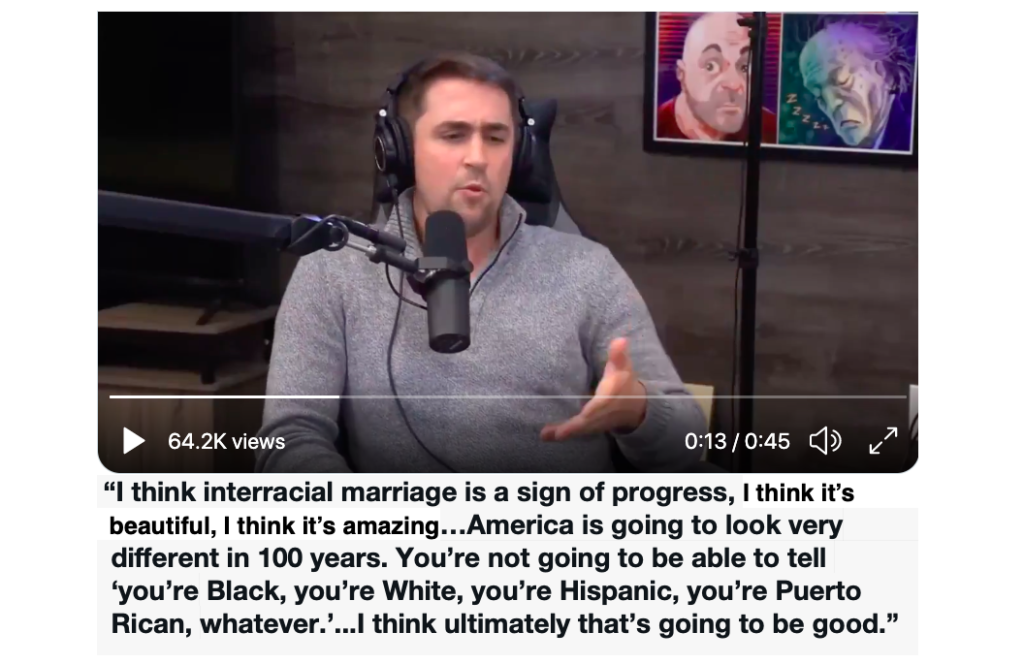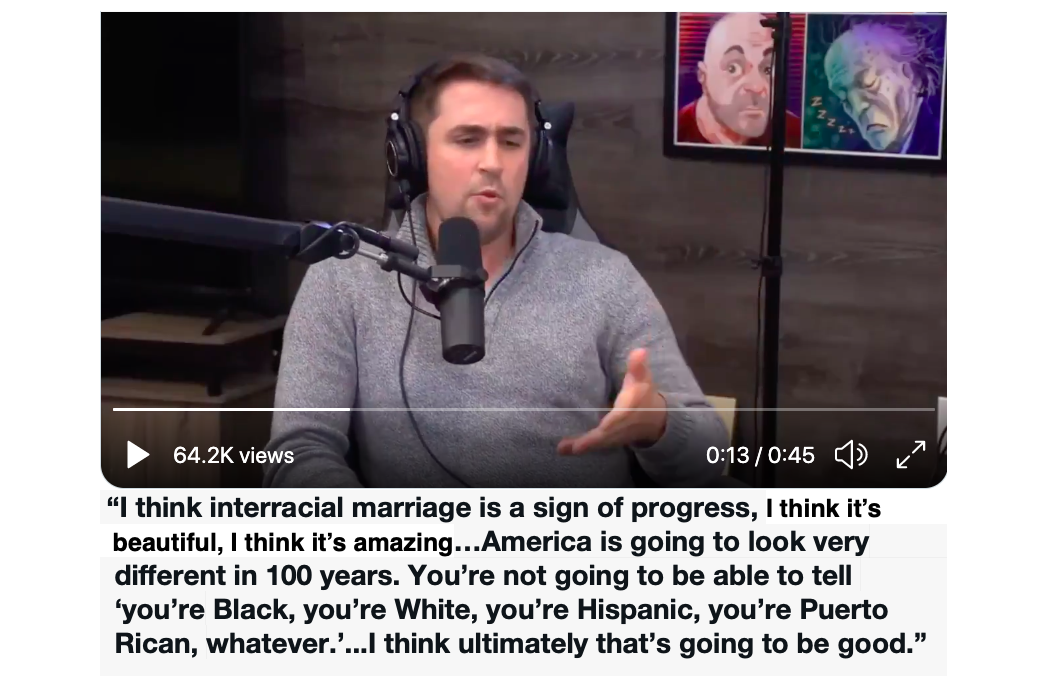 Note that Rufo isn't talking about "intermarriage" in a vacuum. His genocidal project of racial obliteration can be achieved only by mass third-world immigration combined with mass forced assimilation. Anti-Whites have imposed those two conditions to make intermarriage the mass phenomenon that Rufo envisions!
Rufo also speaks as if all races will be blended away. But the races that anti-Whites are flooding into White countries to mix en masse with Whites will survive intact in their own homelands! No one is flooding African countries with millions of non-Africans! No one is flooding China with millions of non-Chinese! Drowning a people away in a sea of diversity is a program for White countries only.
The graphics in this article are also links
Many other aspects of Rufo's support of White Genocide are looked at in greater detail in this article: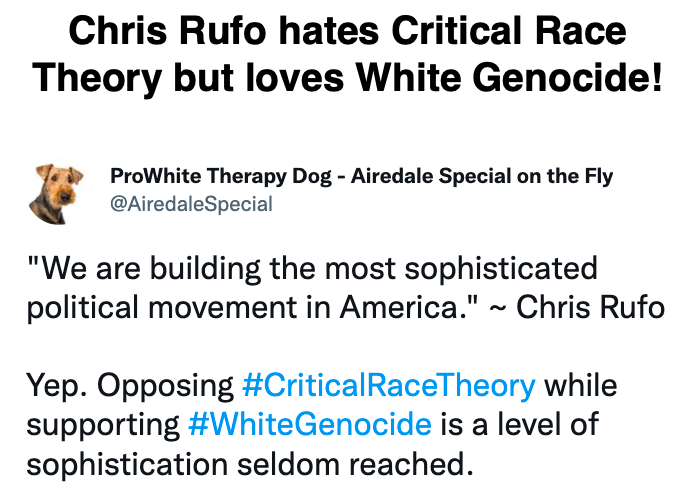 White people organizing to resist White Genocide is seen by Rufo as a "poison for our country" that's as deadly as Critical Race Theory!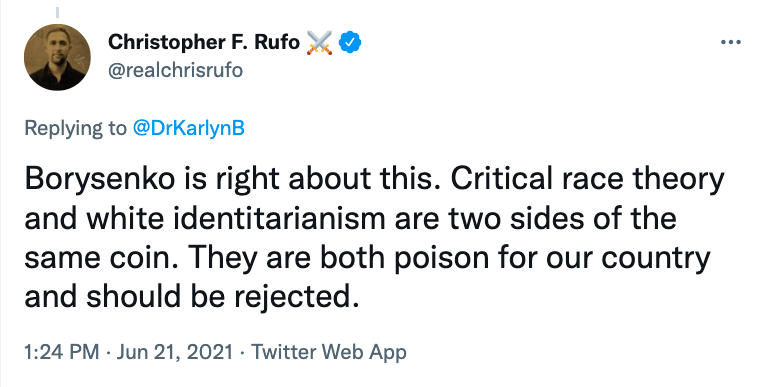 Pro-Whites replied to that tweet by Rufo:
Karlyn Borysenko's attempt to mock those replies got Rufo's encouragement: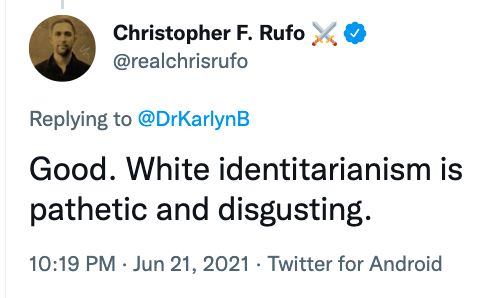 Rufo and those like him desire desperately that Whites develop no feeling of their identity as Whites. "Colorblindness" is obviously the perfect word for them to repeat over and over to condition Whites away from feeling any White identity that would enable them to oppose White Genocide.
If it were all just about treating races equally for college admissions, hiring, promotions, etc., then his other terms "equality" and "equal treatment" would suffice.
So why is he so keen to add the word "colorblindness"?
"Colorblindness has helped make race into a taboo topic that polite people cannot openly discuss. And if you can't talk about it, you can't understand it, much less fix the racial problems that plague our society."
Of course even the insightful and esteemed Dr. Monica T. Williams can't write in mainstream "Psychology Today" that the greatest of our "racial problems" is White Genocide.

But, possibly the force of Rufo's actions against CRT and against other acids that are being thrown in the face of Western civilization will lift White demoralization a bit and actually strengthen Whites' sense of their group identity. Maybe that effect will be greater than the effect of Rufo's blocking White identity with the ideological packaging he gives his actions.
In any case, Christopher Rufo is a rising political star on the right whose prominence is likely to increase. Everyone needs to see clearly that he has the same goal as our present Secretary of Homeland Security Alejandro Mayorkas: secure the homeland for White Genocide.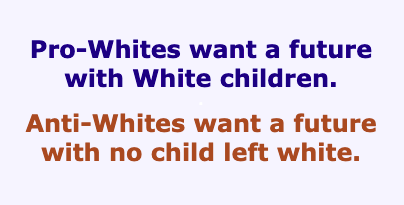 If Whites don't see race, then they won't see White Genocide.