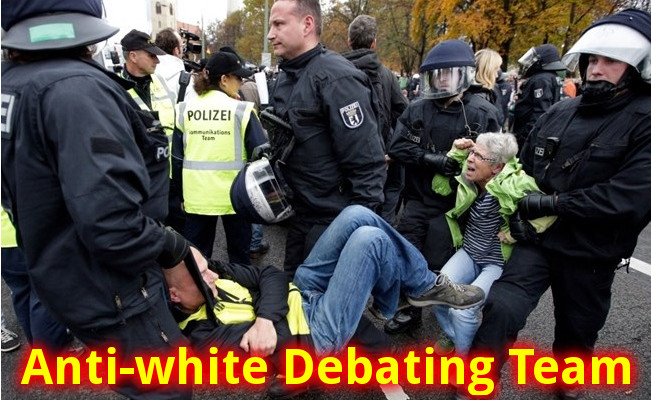 August 30, 2018
By Bob Whitaker

We live in a Bizarro World, a world where White Genocide is being carried out in the name of "Diversity," and any objection to this anti-white policy is banned.
In our Bizarro World, massive third world immigration into every WHITE country, and ONLY to WHITE countries, is official policy.
In our Bizarro world, General Wesley Clark declared that official American policy is to send troops to fight and die so that, "There is no room for an ethnically pure country in Europe."
Immigration is only the first step in this genocidal policy. In every white country there Is a policy of FORCED racial assimilation. In 2008 the President of France declared officially that this program of racial intermarriage was going too slow, and he threatened to use force to speed it up.
All whites everywhere must be chased down. 
This policy of chasing down a race is not completely new.
In the nineteenth century the United States passed a Fugitive Slave Act to chase down escaped blacks.
We now have a program to chase down fugitive whites. These escaping whites are called White Flight. Policy today demands that all White Flyers be chased down.
The Southern Poverty Law Center has declared that there are too many whites in Northern Idaho. They are raising money to chase them down with non-whites. Yes it sounds insane, but it is official policy today.
But there is one big difference between the Fugitive Slave Act of 1850 and today's Fugitive White Policy.
Back then, Africans were allowed to condemn the Fugitive Slave Act. But no one is allowed to breathe a word against the policy of chasing down and ending the white race.
Applied to any other race but whites, this Bizarro Policy would be described as genocide. The Australian Prime Minister declared that the aborigines were being subjected to quote "genocide by assimilation," which is exactly what is being done to whites.
But no criticism of white genocide by immigration and assimilation is allowed anywhere on earth. In our Bizarro world, criticism of our fugitive white policy is crushed.
Anyone who dares to question this Bizarro anti-white despotism is attacked by the three groups I call Screamers, Thugs and Thought Police.
Screamers are there to shout down any questioning of white genocide. They shout words like "Nazi!" "White Supremacist!" "Racist!" and "White Separatist!" One minute they scream for diversity because there are too many white people and the next minute they scream there is no such thing as white people.
Anti-white screamers do not have to make any sense. They just have to make noise.
Then there are the rulers of all our colleges, the thugs.
The thugs are the white version of the Polar Bear Hunting done by black thugs. They control all campuses. If a speaker might question white genocide, they simply threaten to riot and the speaker is banned by the faculty "to prevent trouble."
But screamers and thugs are all they can use in America. In Europe and other countries they have their anti-white thugs and screamers, but mostly they just use good old fashioned Thought Police and iron bars to suppress dissent. In Sweden, any criticism of any immigration policy gets you slapped into prison.
White genocide is being forced and any objection to it is attacked by screamers, thugs and Thought Police.
Despite all this noise and violence and Stalinist law, I choose to speak out.
I invented the Mantra and the term White Genocide.
I have slowly developed a meme which at least objects to the screamers, thugs and thought police. The anti-whites are finally admitting that the terms "anti-white" and "white genocide" actually exist.
We are in the last country on earth where only the screamers and thugs try to silence me. This is the only country where I can challenge any of you Bizarro anti-whites to debate or question me.
I doubt seriously any of the anti-whites will show up if they don't have their thugs with them.