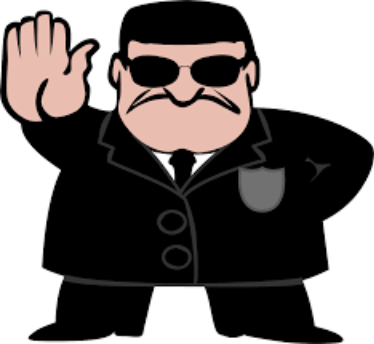 January 24, 2023
"Western values are that tribe and skin color do not matter" ~ Charlie Kirk, May of 2022
Can anyone think of a more blatant lie about the values of the West (or of almost any other society) for all of known history?
Maybe the following?
Hey Charlie, did you know that the captains and financial groups that brought African slaves to North America were motivated by a strong Christian desire to give Africans better lives in America?
Maybe some slavers actually believed that. Maybe Charlie Kirk and other "respectable" "conservatives" who shill for a "colorblind society," like CRT adversary Chris Rufo, also believe their own horse manure.
Their efforts would never produce a colorblind society, but just a society like today's in which only White people are colorblind. White colorblindness blocks Whites from having any sense of group identity that would enable them to resist White Genocide.
The final product from the "heroes of colorblindness" would be White Genocide completed, a happy state that Chris Rufo yearningly describes at the link to him above.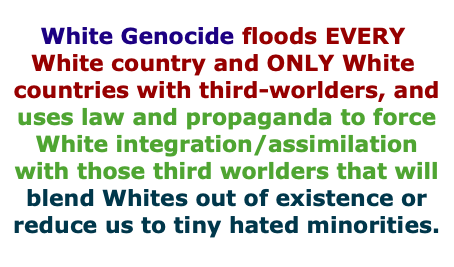 I've listened to Charlie Kirk only this once some weeks ago when I randomly chose one of his programs to listen to to get some idea of him. The statement this article begins with is at 23.09 minutes in his May 23, 2022 show as viewed on Rumble. The clip below is cued to begin play at that statement:
It's very insidious IMO how he slips the statement in for maximum subliminal effect by tacking it on at the end of a list of authentic Western values. An inattentive listener will get his brain slimed.
None of these "conservatives" are going to be speaking and writing the term "White Genocide" even occasionally, much less regularly, even though it's hard to think of any topic more current and more important than anti-Whites' steady progress toward blending the White race out of existence.
It's up to us to repeat the term "White Genocide" everywhere we can as frequently as we can until it becomes a commonplace in political discourse.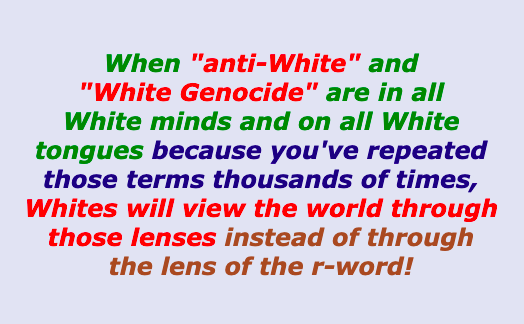 Pushing "colorblindness" is just another play in the game sponsored by anti-Whites of "who's the least 'racist,'" a pastime of perpetual silliness about something that scarcely exists in America any longer.
Hey, Charlie! Hey, Chris! Could you guys knock it off? There's a genocide going on!