December 16, 2022
Donald Trump just released an otherwise magnificent 7-minute video on the loss of free speech in America and how he'll restore that freedom by dismantling America's massive domestic censorship apparatus.
But he should state clearly that it's anti-Whites carrying out White Genocide that have destroyed America's freedom of speech!
Halting White Genocide and restoring free speech in America are at their core the same task: defeat the anti-White tyranny that rules us!
One of the few honest and excellent journalists who remain, Glenn Greenwald, also fails to explicitly make this connection in his otherwise superb video about free speech.
Greenwald points out that historically America has stood out among the nations of the world in its strong protection of free speech, and that until recent decades American citizens reflexively supported free speech as an inviolable, foundational American human right.
Sadly, as Greenwald emphasizes, large numbers of Americans have permitted that part of their American identity to erode, and they no longer hold free speech to be a paramount concern.
Nothing will be more deadly to America and its citizens in the long run than a casual attitude toward freedom of speech. Anyone who understands human nature understands that in a country without freedom of speech, tyranny has already arrived.
Trump's 7-minute video is very encouraging. Hopefully we can trust him to live up to the promises he makes in it. If he's elected and doesn't, that will be one of the most significant betrayals in American history.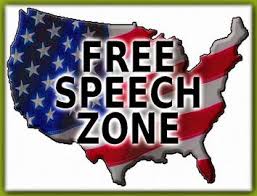 This graphic is a link