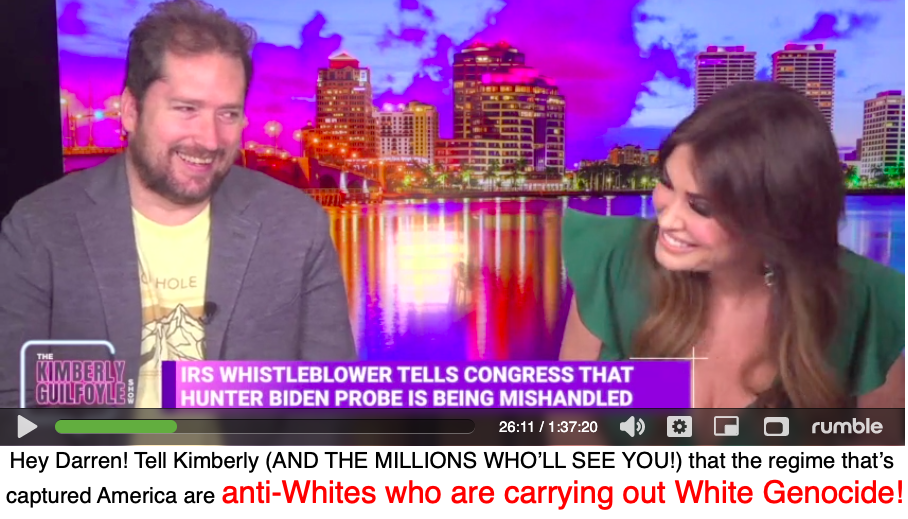 April 22, 2023
Darren and Kimberly neglect to mention that Trump's first order of business must be to halt White Genocide in the United states!
Darren Beattie of Revolver News is a former policy advisor and speechwriter for President Trump. He believes Trump does understand that the anti-White, White Genocide regime that rules us is beyond reformable, and that it must be overthrown in a political struggle that will be as "dangerous" as any other attempt to dislodge a deeply entrenched class of corrupt rulers.
"The national security state has become a real bottleneck to freedom and progress and politics generally in this country…unless we bring the national security state to heel, we don't really have a country, we don't have politics as people ordinarily understand it. That's the main thing.
"That's why it's so encouraging to see in President Trump's recent policy statements, a real deep and sophisticated understanding of this problem, especially the second time around. I think he really understands that unless this is addressed and dealt with, which is a very high stakes and dangerous game — it's outside of the playpen in which GOP kind of politicians are more comfortable playing in — but unless you're willing to play that high stakes game, to play for keeps, to play for the whole thing, it's all going to be fake, and it's going to continue to get fake, and it's going to continue to get worse."
That quote is at 31:45 minutes. The interviewer is Kimberly Guilfoyle, who has been engaged to  Trump's son Don Jr. since New Years Eve, 2020, and she affirms that Trump has learned a lot from his experiences since 2016 and is eager to get to work dismantling the anti-White deep state:
"That was incredibly valuable, the four years that he was in the presidency, and the persecution and the two years subsequent, what he's learned, what he's gone through, understanding the whole mechanism and the weaponized justice system. It's like, day one, go in there and shut this down. I mean I don't even think he sleeps at night, he's like me, we're up all hours of the night, and he's thinking about this, and ready, he's like itching to get in there and get this job done."
Donald Trump made Guilfoyle's points himself in his speech to CPAC this year (22:36):
"There's only one president in history who's ever taken on the entire corrupt establishment in Washington, and when we win in 2024 we'll do it again even stronger, faster and better because now I am experienced and I know the people of Washington. I didn't know them, I was from New York. I now know the good ones, the bad ones, the weak ones, the strong ones, I know them all, I know the people that have to do the job and can do the job."
Many of Trump's recent videos express his intention to demolish the anti-White deep state, like this 7-minute gem on free speech that's been largely overlooked:
Donald Trump destroys America's anti-White censorship cartel in 7 minutes of brilliant rhetoric, but will he destroy the cartel in reality if he's elected?
"Within hours of my inauguration, I will sign an executive order banning any Federal department or agency from colluding with any organization, business or person to censor, limit, categorize or impede the lawful speech of American citizens. I will then ban Federal money from being used to label domestic speech as mis- or disinformation, and I will begin the process of identifying and firing every Federal bureaucrat who has engaged in domestic censorship directly or indirectly whether they are the Department of Homeland Security, the Department of Health & Human Services, the FBI, the DOJ, no matter who they are." (at 1:13)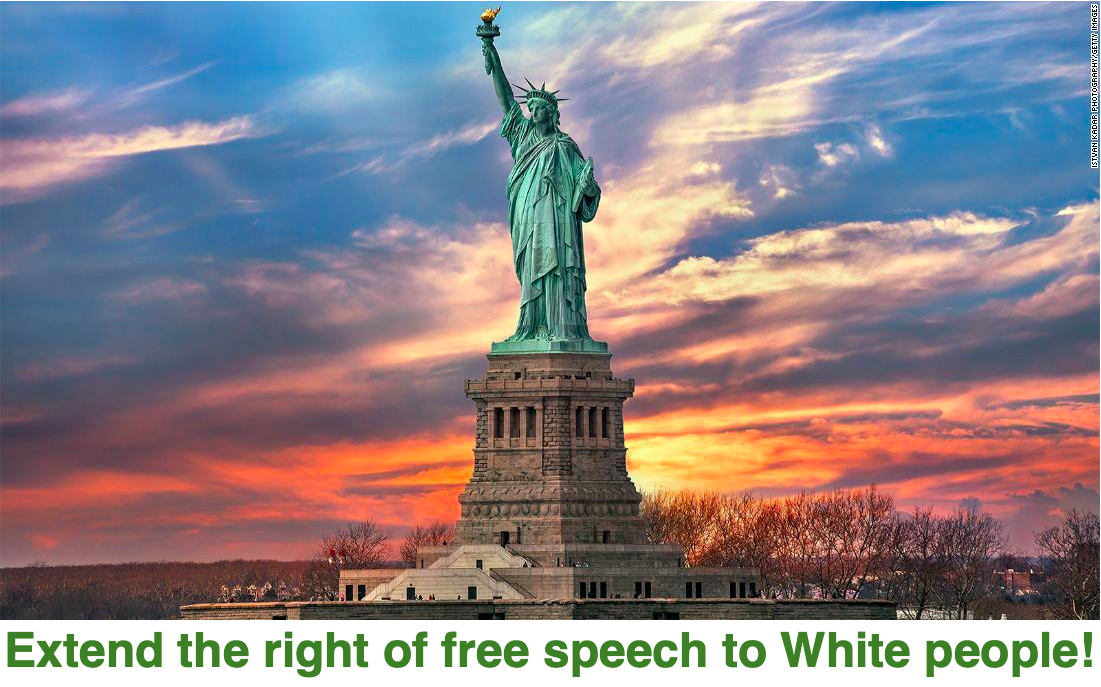 The first statement in the title of the censorship article was intended to be a little ironic when it was written, but my skepticism is slightly less now. I may become still less skeptical if Trump will gather a strong pro-White team around him that Beattie will praise as glowingly as he praises Trump's stated intentions.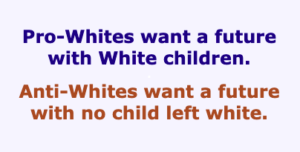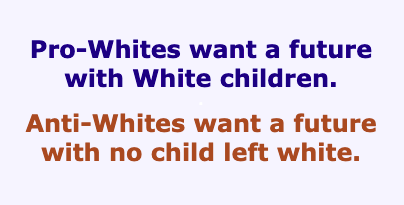 In any case, it's important to recognize the ever-growing strength of the evil that has captured the United States, and to resist it in every way we can think of. Few of our prominent figures on the right seem to recognize the benefit of relentlessly repeating our honest attack term "anti-White," which could weaken anti-Whites as much as that group's own mighty "r-word" has weakened and conquered Whites.
But there's no reason YOU can't start using "anti-White" right now!
———
"You're just an anti-White who supports White Genocide!"
Repeating that statement where it's appropriate hopefully seems like a good idea to you. If you're doubtful, then think about how repetition works on an audience over time.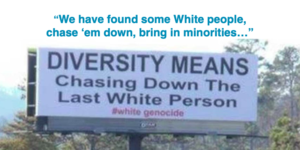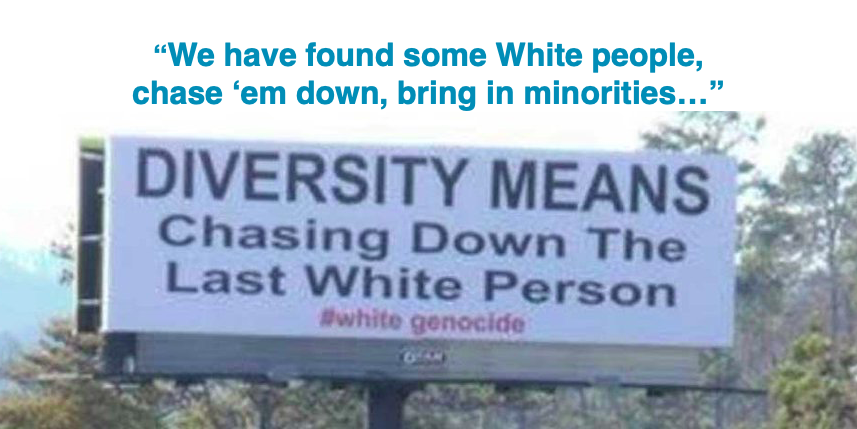 The graphics in this article are also links
See also:
When Darren Beattie sees something that's anti-White, he calls it (drum roll, wait for it) "ANTI-WHITE"!