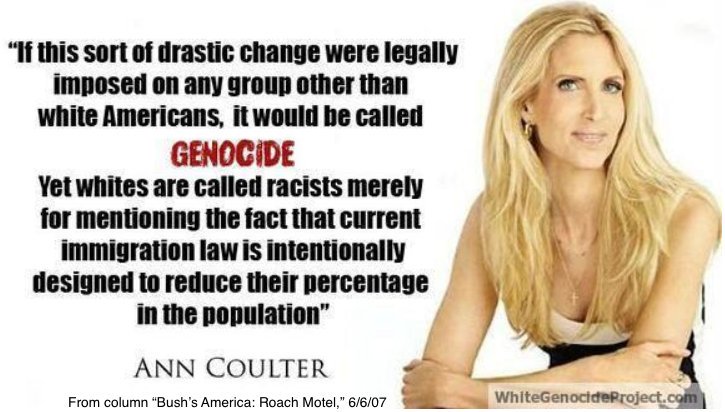 November 22, 2019
But if you support free speech today, Berkeley students will likely call you a Nazi.
When anti-whites call you a Nazi, say what's really going on:
"Nazi" is a slur that anti-whites hide behind to carry out White Genocide.
Or
"Nazi" is a slur that anti-whites hurl at whites who oppose White Genocide.
UC Police report multiple arrests related to Ann Coulter appearance on campus
Do anti-whites ever get tired of their worn out pejoratives? (That's as unkind as asking a cripple if he gets tired of his crutches.)
Hey, anti-whites, here's some fresh memes you can spread:
Asia for the Asians, Africa for the Africans, white countries for EVERYBODY!
"Diversity" means chasing down the last white person.
Diversity is a code word for White Genocide.
White self-hatred is SICK!!!
Anti-racist is a code word for anti-white.
Pro-whites want a future with white children.
Anti-whites want a future with no child left white.
The #FreeSpeech movement started just a few feet away on the steps of Sproul Hall in 1964.

"Her views are not something we should give a platform to…It's even more appalling because today is Transgender Day of Remembrance."#AnnCoulter #UCBerkelyhttps://t.co/buMFvWFWdh pic.twitter.com/B4CCYQfBtQ

— AntiWhiteHatePatrol (@AW_HatePatrol) November 21, 2019
That's a good one!
When do we get a "day of remembrance" for the very much larger number of whites who are killed as the result of anti-white hate taught by our schools and other institutions?
Irony reigns supreme — the sole surviving heirs of the Berkeley Free Speech Movement of the 1960s are today's pro-whites like Ann Coulter who oppose White Genocide.#AnnCoulter #freespeech #irony #CoulterProtest #UCBerkeley #WhiteGenocide https://t.co/M0SOuUPeUu pic.twitter.com/LGwS1aboOl

— Anti-White HateWatch (@AW_HateWatch) November 21, 2019
Preach it, Queen Ann, we love you! (I do anyway, and most pro-whites I know do).
Global peace and brotherhood is being subverted by pro-whites' campaign against "White Genocide"!!

Screamer University calls on social media to censor HATE FACTS like White Genocide!!#Censorship #HateSpeechBill #FactsMatter #coulterspeech #UCBerkeley #WhiteGenocide https://t.co/3D3T8WdoCl

— Screamocracy! (@screamocracy) November 22, 2019
"Screamer University," ain't that a fact!
I like that Tweeter's profile statement: "Welcome to the U.S.'s most active student organization: SCREAMERS, THUGS, and THOUGHT POLICE. Join us!"
All those tweets can be retweeted, liked, or replied to.
But do today's crazed anti-whites really need any help in doing our work for us? I think they do. Their blatant anti-whiteness is waking up lots of whites, but that waking up needs to be specifically to the issue of White Genocide.
Add initials to our White House message to keep it on display!