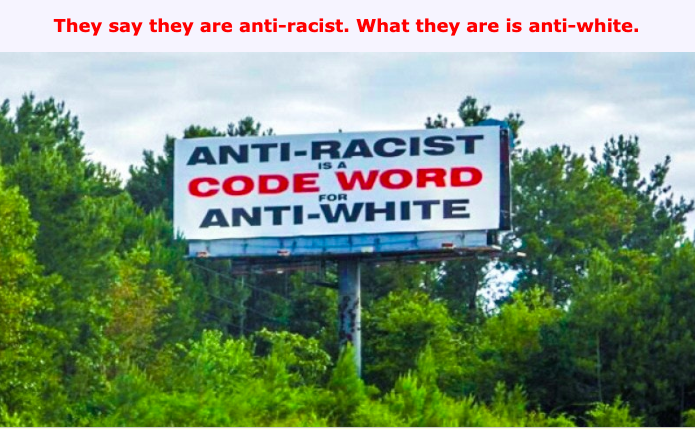 January 10, 2018
Many readers won't know that as recently as five or ten years ago the term "anti-White" was virtually never heard nor seen!
The following excerpt was written in March, 2013:
When the word "anti-white" has been put into the minds and onto the tongues of every White person in this world by constant, determined, unceasing repetition, A NEW CATEGORY WILL EXIST:

ACTIONS AND PERSONS THAT ARE INJURIOUS TO WHITES. 

That category does not exist today! Think how absolutely necessary that category is.
When that excerpt was written IN 2013, THERE WAS NO CATEGORY OF ACTIONS AND PERSONS THAT ARE INJURIOUS TO WHITES. Whites and everyone else had been trained to think ONLY of OTHER races as being targets of racial attack.
There was NO NAME for the racial targeting of whites! Something must be given a name before it can be made fully visible and ushered into the realm of existence.
During the last few years, Bob Whitaker's BUGSers have hammered the term "anti-white" into the mainstream, where it now focuses whites' understanding of attacks that are made against them because they are white.
Anti-whitism and White Genocide had been taking place right in front of our faces. But both had no names, and so both were going virtually unnoticed, until BUGS yanked the veil off them by hammering their names into White consciousness. 
We repeated those names in the mainstream until they have now begun (we still have a long way to go) to have their effect in awakening the mass white mind and in shaping national discourse.
From the late Bob Whitaker and from BUGS, to whites everywhere:
You are welcome!
~~~~
A very important article: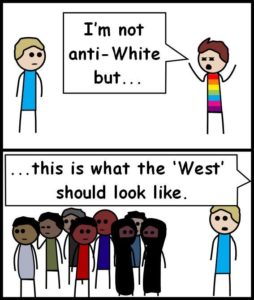 They say they're anti-racist. What they are is anti-white.
Anti-racist is a code word for anti-white!
Diversity is a code word for White Genocide
~~~~
When whites view the world through the lens of "anti-white" and "White Genocide" because they've seen and heard those terms a few thousand times, the grip of the anti-white memes that control their minds will be released.
~~~~
Put these in your toolkit!
Your Stop White Genocide Memes — ready for use!
Click on the first link in this article,
and you'll be led to a wonderland of useful links at the now-archived pioneer site White GeNOcide Project!