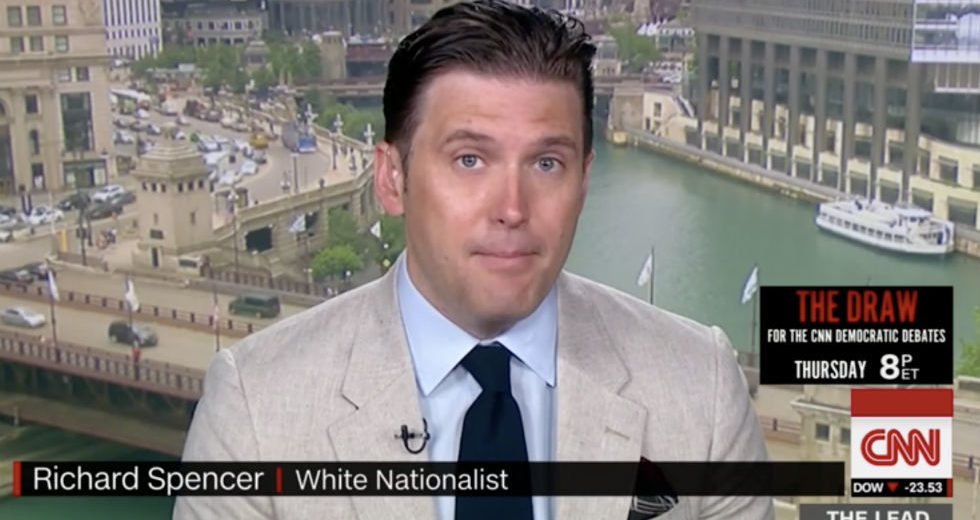 July 18, 2019
When opportunity knocks, "Little Richard" Spencer replies:
Hey, I'm grateful he didn't talk about ever-popular Mr. Hitler like one wizard who got on TV a few years ago.
Spencer's remarks are at 1:45 minutes:
Maybe Spencer figures that the power of the word "racist" has been proven by anti-whites having conquered the white world with it, so he will use it too.
He has opined in the past that "anti-white" and "White Genocide" are not useful phrases.
So Spencer is an apt avatar for the present pro-white movement, since pro-whites still have their brains stuffed with the anti-whites' term "racist" in the place where the pro-white terms "anti-white" and "White Genocide" should be.
The division of white societies into "racists" and "anti-racists" must be replaced by a division into "pro-whites" and "anti-whites. 
Pro-whites oppose White Genocide, anti-whites support White Genocide.
That division won't be accomplished by helping anti-whites repeat their r-word. It will be accomplished by repeating the terms "pro-white," "anti-white," "White Genocide" and the memes that contain those terms.
Here's some replies to Spencer from elsewhere:
Spencer could have made his point about Trump doing a con job on pro-whites in the following way and strengthened two pro-white memes, instead of validating the conquering meme of the anti-whites by repeating it:

"Trump likes to appear pro-white, but his actions appear anti-white."

IMO it hardly matters a fig what view Spencer expresses, so long as he keeps the waters roiled and spreads some Stop White Genocide memes.

Say "anti-racist is a code word for anti-white" and move on to charging anti-whites with their crime of White Genocide.

Pro-whites talking about "racism" are fish thrashing around in the anti-whites' net. Throw the White Genocide net over the anti-whites and make THEM thrash around in OUR net.

This article isn't intended as an attack on Spencer, it's written in hopes that pro-whites (including Spencer) will wake up and use pro-white terminology!
~~~
Much of the above is from our poster White GeNOcide!
Deprogrammer puts his finger on the fundamental problem in his comment below.