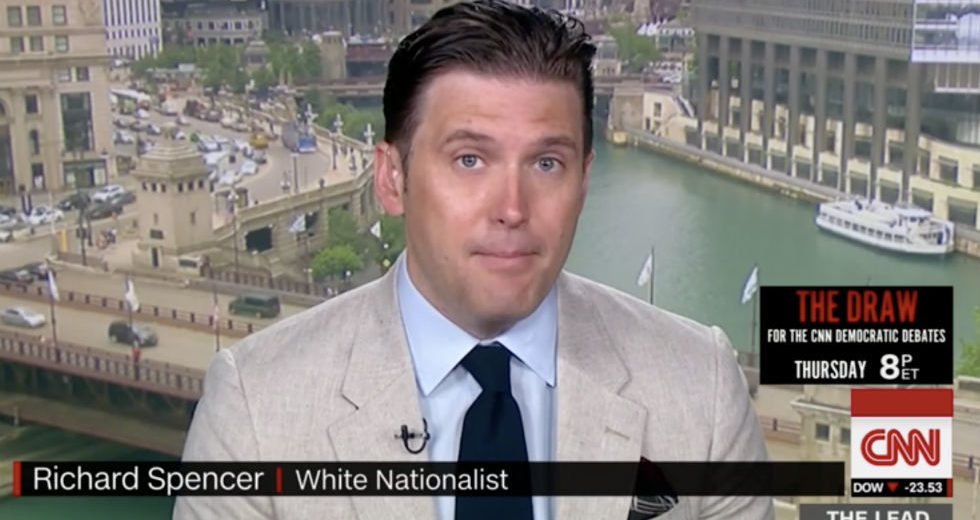 July 18, 2019
When opportunity knocks, "Little Richard" Spencer says this:
At 2:15 minutes,  Spencer says of Trump, "He gives us nothing, outside of racist tweets."
How untrained does a pro-white have to be to repeat anti-white terminology to a mass TV audience when he has the opportunity to repeat pro-white terminology to that audience instead?
He could have said this:
"Trump likes to appear pro-white, but his actions are anti-white."
Anti-whites' mighty r-word is the main weapon with which they've conquered us and now rule us! Let it die a natural death, don't breathe fresh life into it by repeating it!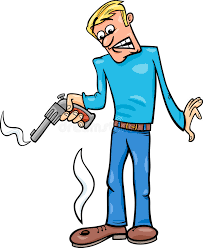 Pro-white repeating the r-word 
When you repeat the r-word, you repeat all the anti-White baggage that anti-Whites have attached to it!
Repeat instead the pro-white terms "anti-white" and "White Genocide." They describe what white countries are mostly about today, so you'll have no trouble finding opportunities to repeat the terms to eventually normalize them.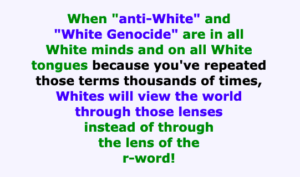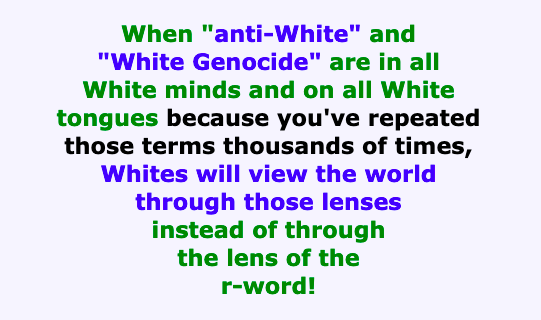 The division of white societies into "racists" and "anti-racists" must be replaced by a division into "pro-whites" and "anti-whites. 
Pro-whites oppose White Genocide, anti-whites support White Genocide.
_______
Has Spencer succumbed to the lies told us by our media, etc. that our nation is awash in what anti-Whites name with their r-word?
It's not! What pervades our nation today is anti-Whiteism! 
Spencer has opined in the past that the terms "anti-white" and "White Genocide" aren't useful phrases to repeat.
Spencer on the term "anti-White":
The McSpencer Group – Episode 1: New Zealand, Yang Gang, GOP Infiltration
Richard Spencer
2:10:17 minutes:
I think "It's okay to be white" is a much stronger thing. We want a positive identity. Before we can start attacking the people who are against us, we need to say it's okay to be who we are. I think we should focus on a positive identity first, and that without that positive identity, all that "you're an anti-white" stuff doesn't work.
The people who use "anti-white" find it works great. Call anti-whites "anti-white" and see.
This TV incident will never happen if pro-Whites repeat the r-word instead of repeating "anti-white":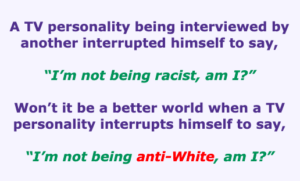 Among its many strengths, the term "anti-white" brings clarity. Before white people ever heard that term, almost no whites even knew there could be anything that was anti-white, as hard as that may be to imagine now. Lacking that understanding, whites felt secure in their countries and felt no need to have any kind of conscious identity at all.
Spencer on the term "White Genocide":
Richard Spencer Interview – Race, Birthrates, WWII (Pt. 3)
2:10:17 minutes:
It's a bit much. It does kind of turn people off.
Well of course it does! It has to be repeated enough tens of thousands of times until it becomes normalized!
Spencer and a lot of prominent pro-whites want acceptance and popularity within the mainstream right now, which simply can't be done.
But their desire for that causes them to enthusiastically embrace memes like "It's okay to be white" to the exclusion of memes that look further down the road.
"It's okay to be white" is a good meme for right now, but 100 years from now we don't want the few remaining white people to be walking around mumbling "It's okay to be White." We want a large, healthy white population saying "Thank goodness we stopped White Genocide!"
This article isn't intended as an attack on Spencer. It's written in hopes that pro-whites (including Spencer) will wake up and use pro-white terminology!
Much of this article is from our poster White GeNOcide. The three graphics in the article are also links.