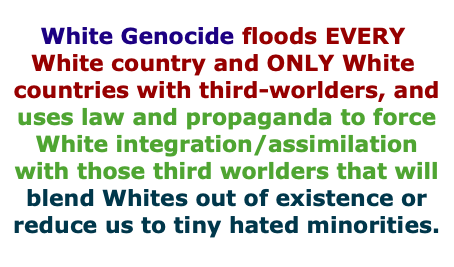 January 23, 2023
Of course Tucker doesn't use the term "White Genocide," or even "anti-White." No prominent person uses those accurate words yet to describe what's being done to White countries today.
But read our featured image above to have a sure grasp of what White Genocide is, and then listen to what Paul Craig Roberts says is the most "solid and important information in 12 minutes" that you can get:
Tucker describes vividly and concisely the nature of the permanent government that's carrying out White Genocide. He also describes vividly the particular high crime that Biden and the permanent state are jointly committing in service of White Genocide.
Does Tucker understand the core nature of that genocide?
I don't know. But it's the job of us at this site and of you who read these articles to get information about White Genocide out there!
Public figures aren't going to use the explicit term "White Genocide," nor describe explicitly what it means, until we've put that information into the public domain ourselves.