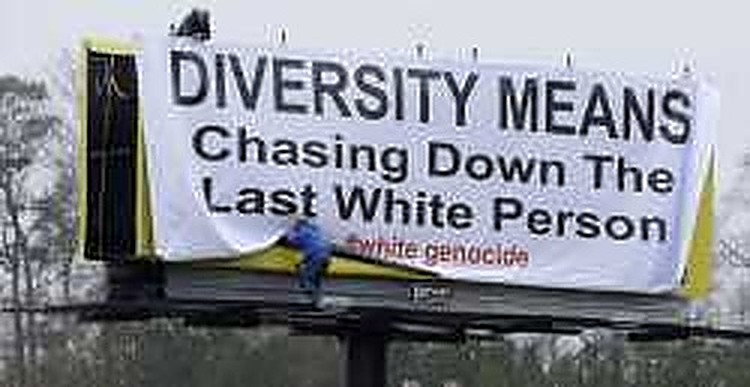 July 2, 2022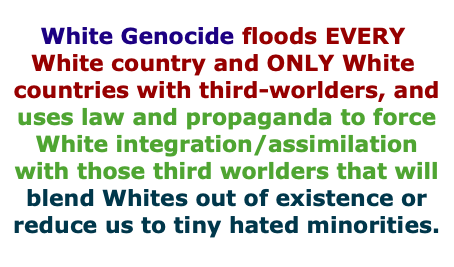 Most or all graphics will be links.
Anti-Whites' program of White Genocide lies behind many smaller news stories. We'll occasionally post about some of them here.
6/29/2022
Anti-Whites strip away White culture bit by bit, demoralizing Whites and making White Genocide easier to carry out.
"'Someone complained, and it was gone.'
"That's all Cornell University biology Professor Randy Wayne said he has been able to determine so far about the whereabouts of a longtime display in the Ivy League school's Kroch Library of a bust of President Abraham Lincoln in front of a bronzed Gettysburg Address plaque.
"'It's been there since I can remember,' he told The College Fix in an interview.
"He asked the librarians about it, and they had no details to provide, except to say it was removed after some sort of complaint, he said." 
Schools, cities, etc. can't just leave things lying around that could make young people think that Whites once had some importance! Such a falsehood could slow White Genocide!
~~~~~~~~~~~~~~~~~~~~~~~~~~
7/1/22
Hm… are the anti-White globalists getting us used to the phrase "world order," as in the WEF's "New World Order" when White Genocide will be completed and the humans who remain will eat bugs?
~~~~~~~~~~~~~~~~~~~~~~~~~
"Declaration of Betrayal of West Point And the Long Gray Line" ~ by Lieutenant General Thomas McInerney, USAF (Ret) Class of 1959, Major General Paul E. Vallely US Army, US Army (Ret) Class of 1961, and Colonel Andrew O'Meara, US Army (Ret) Class of 1959.
[I notice their graduation dates — "the Not-Lost Class of '59′" speak to the lost classes of today. ~ admin]
"…the Cadet Honor Code…intention had been violations are not tolerated and expulsion will result…today…over 50% of convicted violators are excused.
"Civilian faculty members have introduced political indoctrination into academic instruction to include socialist ideology…guest speakers, who have been almost exclusively liberal…We could not identify any conservative speakers in recent years.
"Cadets have been coerced into complying with illegal orders – mandates – to submit to vaccinations with experimental drugs never approved by the FDA.  Such conduct by the Staff is a gross violation of international law and the impartial administration of military justice by the Academy.
"Instruction in Critical Race Theory (CRT) at the Academy…severs the ties of every cadet to defense of the Constitution, thereby nullifying the oath cadets have sworn to uphold. Critical Race theory now replaces Duty, Honor, Country.
"Leftist ideologues…are working hard to transform the Constitution into a document that can be continually revised to accommodate the latest socio-cultural trends. They have made substantial progress in replacing freedom of religion with freedom from religion. Leftists prefer anarchy to law and order…
"…the military is being forced by WOKE leaders in the White House, Congress, Department of Defense, and Pentagon, to…advance a leftist agenda that seeks to tear down the Constitution, not protect it. Officers and enlisted troops are being required to sit through leftist indoctrination sessions that portray America as an inherently racist nation, white troops as genetically bigoted, and minority troops as hopeless, lifelong victims.
"This declaration is dispatched to the Superintendent of the Academy as well as the President and Directors of the AOG [West Point Association of Graduates} with the admonition that the Academy is conducting business in a manner that ignores time- honored principles of the Academy, Constitutional Law, and our sworn oath of office."
__________
We at this site recognize all these snapshots of White Genocide as being exactly that. But until the people involved recognize them as such, they're nothing but fusses over matters that will be moot if White Genocide isn't stopped.
__________
7/5/22
Re the Highland Park shooting over Independence Day weekend, this analysis of mass shootings made four years ago still applies very well. I's very much like what Nick Fuentes had to say last night beginning at time 1:29:58.
School shootings — collateral damage of White Genocide?
"…a society in dissolution in which the normal bonds that regulate behavior have been broken."
"Broken so that a new (lack of) order can be founded on The Anti-White Proposition, which holds that no white nation, no white region, no white town, no white organization, no white school, no white neighborhood, NO WHITE ANYTHING CAN BE ALLOWED TO EXIST."
Of related interest:
July 4 weekend marred by more than a dozen mass shootings
"In the Chicago area, at least 57 people were shot and nine were killed over the weekend, NBC Chicago reports."
Massacre as Usual in Chicago – WSJ Opinion
"In Chicago last year, 797 people were murdered and 4,375 were shot…"
That last fact may officially be a "hate fact," so be careful with it.
________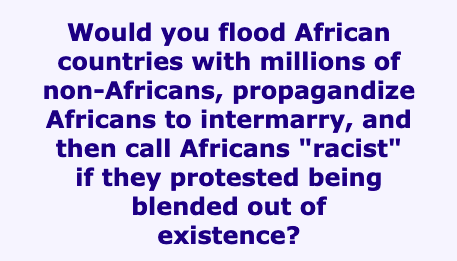 __________
7/6/22
The World Economic Forum (WEF) has invaded the Netherlands in an open attack on Western food production!
Anti-White globalists of the World Economic Forum (WEF) now hold critical positions throughout Western governments, as affirmed by WEF head Klaus Schwab.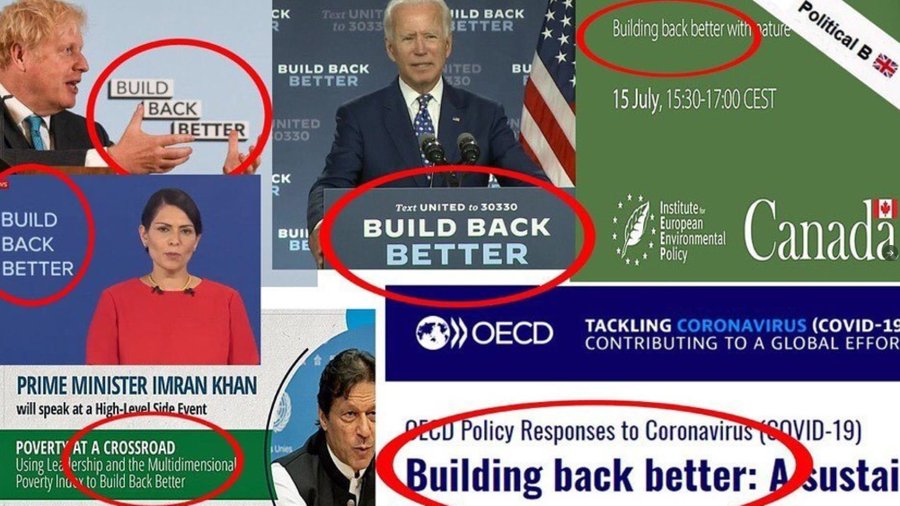 Click on that graphic to watch Western leaders announce that they're all "Build Back Better" puppets of the WEF!
The WEF wants to complete White Genocide and rule over the rest of humanity in a bug-eating "utopia."
They've chosen the hugely meat-exporting Netherlands for their first openly total war on Western food supplies, under the excuse of "fighting climate change."
Dutch Farmer's Are in Full Revolt Over WEF Control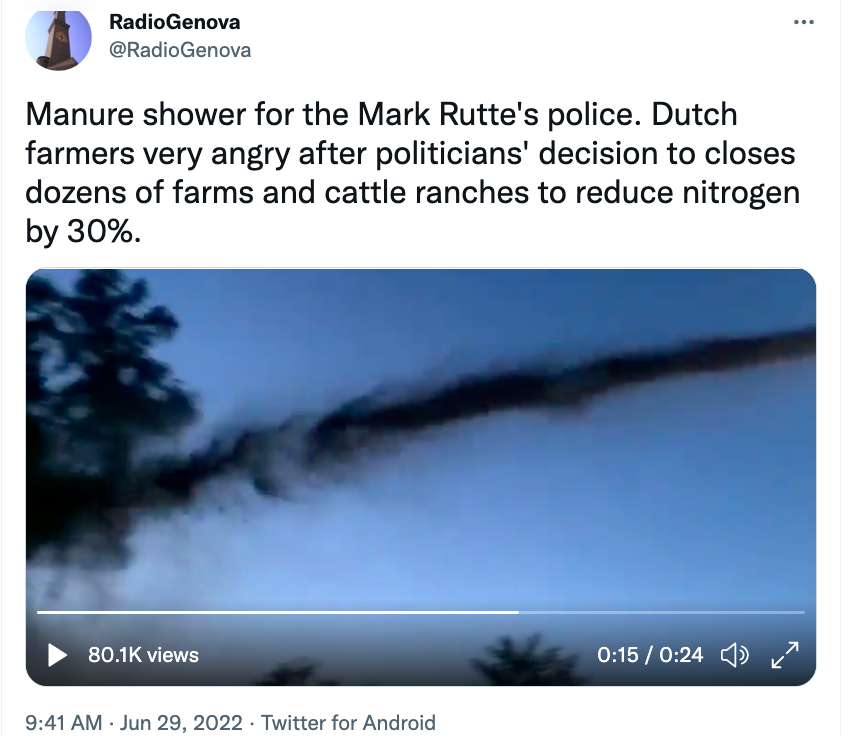 "The Dutch protesters are pouring manure on government offices, flooding streets, and becoming all together ungovernable. This uprising is in response to the WEF controlled government shutting down farms to 'save the planet.'
Mark Rutte, Prime Minister of the Netherlands, explains why @WEF innovation hubs are an inventive agricultural solution, during the "Transforming Food Systems and Land Use" panel, at #DavosAgenda.@MinPres

Watch now: https://t.co/EuWbyQpfpc pic.twitter.com/amGrhqRIo8

— World Economic Forum (@wef) January 27, 2021
There you have it. The governmental head of the Netherlands is a WEF puppet. So is the U.S.'s Biden. So is Canada's Trudeau. And so on, and it's not just heads of state. You can be sure that the Netherland's government like other Western governments is riddled with these spiritual zombies who support White Genocide.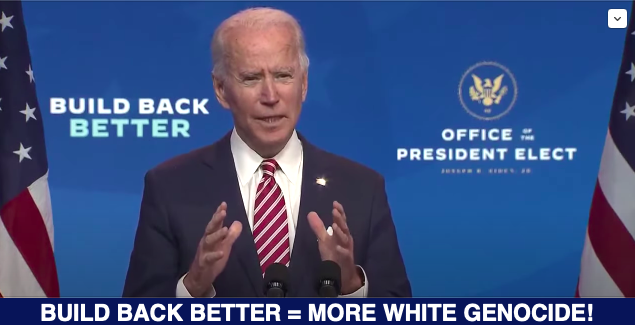 Recall what White Genocide is: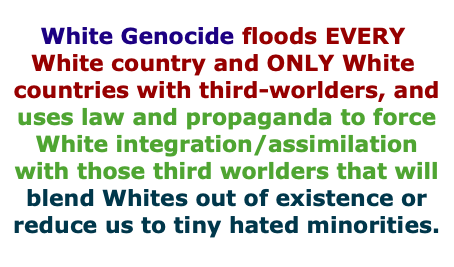 The WEF coos lullabies to gently plant support for White Genocide in our minds:
——-
8/9/22
BREAKING: PRESIDENT TRUMP'S MAR-A-LAGO HOME RAIDED BY JOE BIDEN'S FBI — BREAK INTO HIS SAFE!
The anti-White, WEF-tier globalists want to complete White Genocide and reduce the rest of humanity to bug-eating enslavement.
They know there's a single politician who could rally Americans sufficiently against them to stop them. 
He must be derailed at all costs, so they are throwing everything against him they can and hoping that something will eventually stick (no luck so far).
Let's see if they dropped their masks a little too far this time.
Or maybe it was a terrible failure of communication? Maybe the original plan was to raid the Biden White House in search of documents confirming criminal activities by the Biden family? But that doesn't make any sense, since all the documentation needed is likely in Hunter Biden's texts and emails that are now in the public domain.
---
---
---
Most graphics in this article are links.