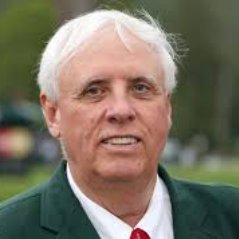 December 16, 2017
[4/18/18 — If you arrived here through a link, please visit our current pledge page and pledge there: Take the September 1 pledge! Stop "Asia for the Asians, Africa for the Africans, white countries for EVERYBODY" immigration policy!]
~~~~
On April 1, 2018, the message below will be submitted to the White House for public display if 200 comments have been posted pledging to initial the message on April 1.
Please pledge in a comment below.
Then return to fightwhitegenocide.com on April 1 to initial the message — it will need 150 initials before the White House will display it until the end of April.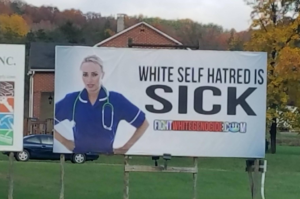 WE THE PEOPLE ASK THE FEDERAL GOVERNMENT TO TAKE OR EXPLAIN A POSITION ON AN ISSUE OR POLICY

Charge West Virginia's governor Jim Justice with illegal interference with our "White Self-hatred is Sick" billboard
The office of West Virginia's governor Jim Justice responded to a complaint against our billboard "White self-hatred is sick" by persuading the billboard's owner to remove the message. (goo.gl/8pUz6o, goo.gl/bkVLTC).

We bring this discriminatory act to the attention of President Trump since the president has decried political correctness that denies free speech.

We respectfully request these actions:

1. Urge Governor Justice to restore our billboard or provide one similarly located.

2. If Governor Justice fails to do the above in a timely manner, bring Federal charges against him for having violated the civil rights of the renter(s) of the billboard by interfering with their free speech.

Thank you very much,

Coalition for Propagation of the Message "White Self-Hatred is Sick"
Here's the White House site if you want to practice on some messages that are posted there (when the site reopens in late January). You don't need to enter more than initials in the name boxes of the messages, and it takes awhile for the initials to be counted.
Folks, it's important that anti-white acts be publicized, and that when our memes such as "White self-hatred is SICK!" are blocked, we use other ways to get those memes out!
Anyone anywhere in the world can participate!