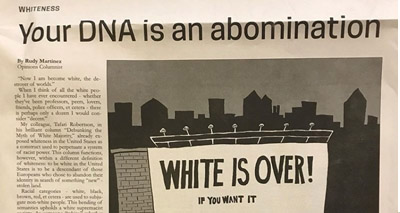 January 4, 2018
If anti-whites had contented themselves with flooding white-majority countries with millions of non-whites, and smothering whites with anti-white laws, court rulings, policies and propaganda that keep us demoralized and keep us steadily assimilating with non-whites, then anti-whites might have succeeded in carrying out White Genocide.
What's waking up whites probably more than all the efforts of pro-whites combined is the blind determination of so many anti-whites to make the white race scream, by crushing it decisively and visibly.
That makes it less and less likely that the anti-white program of White Genocide is going to continue to slide under the radar of even the most sleepy white observers.
In this short video, Jared Tayor of American Renaissance shows remarkable examples of today's extreme anti-whitism in our nation's colleges:
When Gentleman Jared says the world "f*cking" in a video, even though he's only quoting an anti-white, you know the times they are a'changin'. 🙂
Anti-whites will continue to snatch defeat from the jaws of victory by helping pro-whites awaken whites, until whites see plainly the program of White Genocide that is being carried out right in front of our eyes.
When the fact of White Genocide has sunk deep into white bones, there will be no going back to anti-whitism.
~~~~~~
April 1, 2018