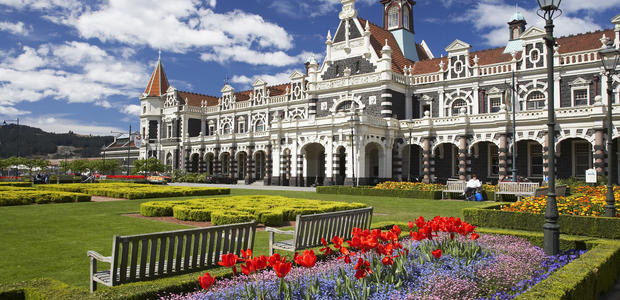 May 9, 2018
"I believe what's happening is White Genocide, and I think that's the term people are going to be hearing more and more."
Bravo, Kevin Gibson! That might be the first time many white New Zealanders have heard the term "White Genocide"!
Kevin is the head of New Zealand's "National Front," and he was interviewed live on a popular NZ radio program about the cancellation of the Front's recently scheduled public event.
The Front's "White New Zealand and Our Future" event was intended to draw attention to the Genocide facing White New Zealanders that is taking place via massive non-white immigration and forced assimilation. The event was scheduled to be held in Dunedin and Christchurch.
It was cancelled due to threats of violence from the thugs who call themselves "anti-racists," but who are in fact just anti-white. The screamers, thugs, and thought police who shut down peaceful public events by pro-whites all over the white world have no problem at all with public advocacy events held by non-white groups. In New Zealand and everywhere else,
Anti-racist is a code word for anti-white
Anti-whites also successfully pressured EventFinda New Zealand to take down the Front's advertisement for their event:
EventFinda New Zealand Is Charged With Complicity In Genocide
How will pro-whites break through the almost total censorship that is clamped on pro-white expression all over the world today?
Kevin and the National Front broke through the censorship by parleying the cancellation of their event into a radio appearance where they were still able to get out their message about White Genocide! Saturating the public arena with the terms "White Genocide" and "anti-white" will do a lot to undermine censorship. When the mass of whites begin to view the world through the lens of those two terms instead of through the lens of the r-word, the almost total censorship that's fastened on pro-whites today will fail, and fighting white genocide will become a snap.
If you're not convinced it will be a snap, just check out anti-whites' behavior today. They control all the machinery of indoctrination: schools, media, political parties, even most churches, and yet they are afraid to allow our opposition to White Genocide even the tiniest public voice. That's because they know that in open debate, their anti-whitism and support of White Genocide won't stand a chance.
Taking advantage of his opportunity to reach the public via his interview by Leah Panapa, Kevin also made these points: "I don't see a future for white New Zealand at the moment. I think we're living in anti-white times. Whites are the only ethnicity that can't advocate for themselves. I think we're heading for the end of white New Zealand. Immigration should be cut down to very low levels, which is what people asked in the last election but it hasn't happened. It's only white countries that have to accept multiculturalism, and if you speak out against it you're persecuted."
Those are good Mantra points, as was Kevin's observation that China is allowed to be Chinese, and Africa is allowed to be African.
In the same way that NZ's National Front utilized the cancellation of its event to still get its message out, fightwhitegenocide.com used the removal of its recent billboard in West Virginia to further spread the meme the billboard displayed:
Take the pledge! On April 1, 2018 tell W. Va. Governor Jim Justice, "White self-hatred is SICK!"
Anti-whites ease the skids for their program of White Genocide by training whites in schools and elsewhere to feel bad about themselves, and then actively suppressing this meme:
In his radio interview, Kevin Gibson also took a swipe at white self-hatred with this ironic refrain: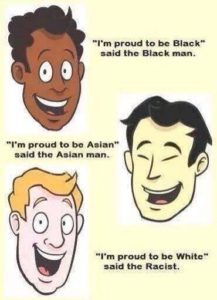 "I'm proud to be Black," said the Black man.
"I'm proud to be Asian," said the Asian man.
"I'm proud to be White," said the Racist.
Anti-whites are very determined to suffocate the Stop White Genocide message under their heavy blanket of censorship that they've covered the entire white world with. But the message continues to make its way into the public arena and into white minds!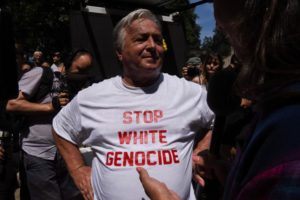 For that, we thank brave activists like Kevin and the NZ National Front, and we thank all of you reading this who in one way or another, publicly or anonymously, large or small, are playing a part in making understanding of White Genocide spread faster!
~~~~
Be a Stop White Genocide "Repeater Rifle"!