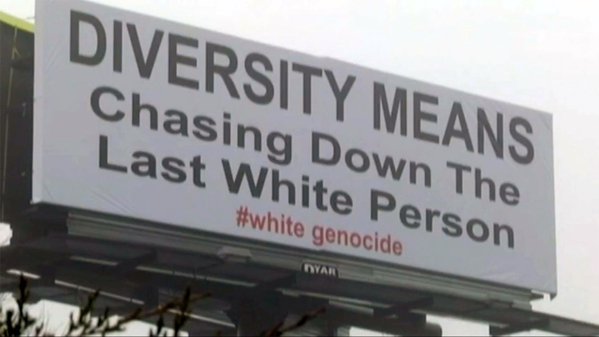 February 7, 2018
They're carrying out White Genocide.
On a podcast on another site, the host predicts an effect on whites of the U.S.'s improving economy:
"Once people's basic needs are met, then they start looking around, and being like, 'Hey, who the f*ck are all these people, and what are they doing here?'" 
In their tiny numbers of yesteryear, exotics from afar were just a dash of spice in our largest cities. But in recent decades, they've been poured into the U.S. "melting pot" in quantities to blend the U.S.'s native stock out of existence.
What? The U.S.'s native stock is "American Indians"? 
Wake up, dude! Do you want your race to go the way of the American Indians?
White self-hatred is SICK!!!
The U.S.'s native stock is the stock that founded this country. Ironically, that's the same stock that invented all the devices — computer, airplane, telephone, television, radio, printing press, electric light, etc. etc. that anti-whites use today to beat whites into accepting that, wherever they flee to, they'll be chased down with diversity.
"Diversity" means chasing down the last white person
The descendants of the limited number of non-whites who were present in the U.S. in much earlier years may reasonably share a claim on the U.S.
That has nothing to do with anti-whites using massive third world immigration and forced assimilation today to blend whites out of existence or reduce us to tiny minorities in every majority-white country.
Diversity is a code word for White Genocide
~~~~
Put these in your toolkit!
Your Stop White Genocide Memes — ready for use!