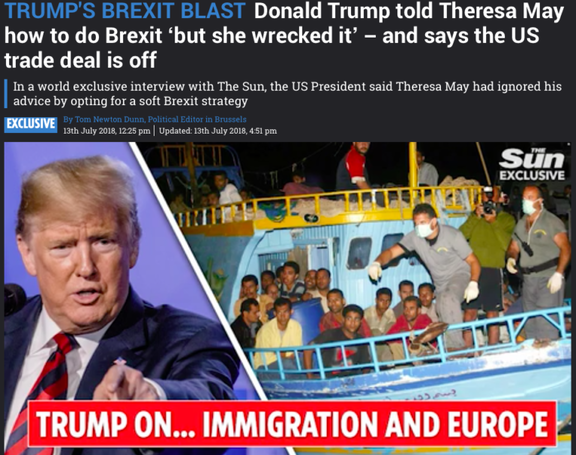 July 13, 2018
Trump opens the blinds in Europe on the spectacle of anti-whites pushing Europe toward a new and permanent Dark Age, with the purposeful extinction of whites in all their homelands.
"I think what has happened to Europe is a shame"

"Allowing the immigration to take place in Europe is a shame.

"I think it changed the fabric of Europe and, unless you act very quickly, it's never going to be what it was, and I don't mean that in a positive way.

"So I think allowing millions and millions of people to come into Europe is very, very sad.

"I think you are losing your culture. Look around. You go through certain areas that didn't exist ten or 15 years ago."

"You have a mayor who's done a terrible job in London. He's done a terrible job. Take a look at the terrorism that's taking place, look at what's going on  in London. I think he's done a terrible job.

"I think that all of this immigration has really changed the fabric of Europe."
Excellent beginning, Mr. President. Get the white world ready for your second inaugural address, on White Genocide, the anti-white project of flooding EVERY white country and ONLY white countries with millions of third world immigrants, and forcing white integration/assimilation with them that will blend whites out of existence or reduce them to a tiny minority in all white countries.
Trump rattles anti-Whites with Poland speech: The West is worth saving!
"The fundamental question of our time is whether the West has the will to survive. Do we have the confidence in our values to defend them at any cost? Do we have enough respect for our citizens to protect our borders? Do we have the desire and the courage to preserve our civilization in the face of those who would subvert and destroy it? We can have the largest economies and the most lethal weapons anywhere on Earth, but if we do not have strong families and strong values, then we will be weak and we will not survive." ~ Trump in Poland: Transcript of Warsaw remarks
_________

_________
See also: Six Ways Donald Trump has helped fight White Genocide