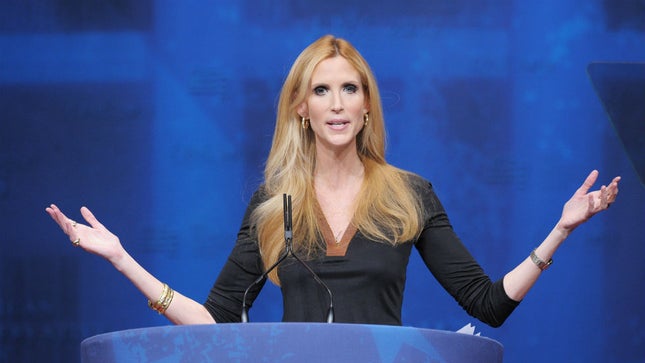 October 25, 2019
In this interactive transcript (click on "Ann Coulter") you can select any sentence to play the video at that point:
The customary three dots to indicate skipped content are omitted in these excerpts:
I gave lots of speeches to the Tea Parties. When I got to immigration, the crowds went wild.

How was amnesty stopped? They've been trying to sneak it through Congress, both Republicans and Democrats. They've tried to sneak it through at least a half dozen, maybe a dozen times in the past 20 years. The only way it has ever stopped—it's not because of Fox News; it's not because of talk radio [Ann says that both of those were supporting amnesty then] — is because somehow the word gets out, "They're about to pass an amnesty," and regular Americans call in and shut down the congressional switchboard.

I've never seen an issue where the elites are 100% on one side and the people are 100% on the other side. Not 100%, but 90/90.
That fact of how amnesty has been stopped (on the occasions when it was in fact stopped) has always impressed me greatly. Politicians want most of all to be reelected. That ordinarily depends on their responding to tugs on their puppet strings from the wealthy and powerful whose money and power usually weigh the heaviest in deciding elections. But if a large enough portion of the electorate mobilize, politicians perceive the popular will to be more likely to decide the next election than the money and power of the elite.
So it's silly to not work to change the orientation of the white population at large.
The Koch brothers and the chamber of commerce want their cheap labor, and they don't care what kind of country this will become because of it. Well, the people do care. An awful lot of the people do care what kind of country this becomes.

We don't have to deport anyone. We enforce E-Verify; they go home the same way they came. We didn't round them up to bring them here; we don't have to round them up to bring them home. It's a lot easier going back the same way.

All of these were Kris Kobach's ideas. I mean, Trump will never get done what he promised to get done if he's not going to hire the people who know how to do it.

I think it was Josh Barro—went out to Iowa before the Iowa caucuses, and he said he's interviewing people. He tweeted this out and said something like, "You know, I'm asking voters, 'But what about his attack on John McCain?' Who cares? The wall. You know, next question: 'How about the fact that he used to be a Democrat?' Who cares? The wall." That's what people were voting on. He promised to build a wall. There was such a hard-core element of support.

In my circle —it was voting on the wall and illegal immigration. I'm talking about, you know, doctors and lawyers and Hollywood people who aren't forgotten. What do we get out of this? We get the cheap labor, too, but we want to save America, and we care about our fellow Americans.
I don't think any progress can be made on anything in America until the media is destroyed and replaced by something with integrity. 

I do think the words [Trump is] saying, at least we're getting that out of him. I was hoping for more, but at least we're getting the words. And I think that is useful.
.
Yes, the use of particular words has played a huge role historically, and is a key part of fighting White Genocide:
The White Genocide meme war: Anti-whites are down to their last words! Pro-whites are just beginning!
One of the—one of the great things Trump has done is to give a word for—for concepts. I mean, it was an important point George Orwell made—I think it was Orwell—that until you have a word for something, you don't understand it; that there's no part of your brain that—"the swamp," "fake news." What are some of the other ones? "Low energy" was a good one; that was a really good one. …
.
We started making that point to other pro-whites some years ago:
But the "fake news" one, I mean, that could be the only thing we get out of this presidency, to run down—and boy, the media sure isn't giving him any pushback on this. … ABC, NBC, CBS, they are embarrassing themselves over and over and over again.
Ann Coulter is a pleasure to watch!
We have to point out, as always, that there's no eventual difference between flooding white countries with illegal non-white immigrants or with legal ones. Ann Coulter understands that: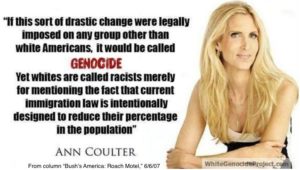 11-4-19: In the rest of the interview, Ann Coulter makes a strong case that Trump has had the power, if he'd cared to exercise it, to have a moratorium placed on all immigration into the United States. But, she says, for reasons we can't be certain of, he instead surrounded himself with people who were opposed to the immigration position he ran on, and he made no effort to turn his campaign position on immigration into policy.
National electoral politics deserves pro-whites' attention since it plays an important in carrying out the anti-white establishment's program of White Genocide. But hoping that actual leadership in fighting White Genocide will arise out of national politics without our deprogramming our white populations seems unrealistic to me.
Add initials to our White House message to keep it on display!