March 4, 2019
If a third party will name itself "The Stop White Genocide Party," then Media will do a lot of the party's work for it.

No third party is likely to win a national election soon, but the publicity that would come to "The Stop White Genocide Party" because of its name and platform* would increase immensely whites' exposure to the fact of White Genocide.

When the terms "anti-white" and "White Genocide" are in all white minds and on all white tongues because the terms have been heard and seen a thousand times, whites will start viewing the world through the lens of "anti-white" and "White Genocide" instead of through the lens of the anti-whites' r-word.

THEN a good Stop White Genocide Party can begin to win elections!
Those are four successive posts made by a BUGSer on another site.
See also: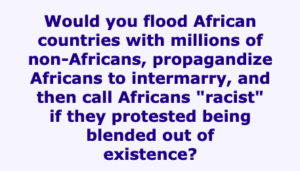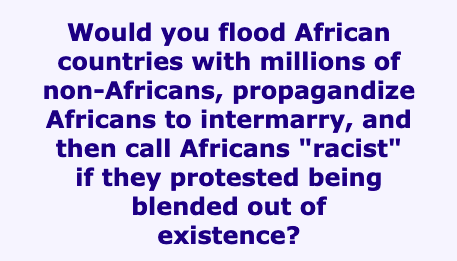 Click on the graphic for our fundamental document on White Genocide
__________
*The party's platform of course would be the termination of White Genocide's two components:
Anti-whites flooding EVERY white country and ONLY white countries with the third world.
Anti-whites using law and mass propaganda (and mass censoring of opposition to White Genocide) to impel whites' integration/assimilation with the third worlders, that will blend whites out of existence or reduce whites to small minorities.