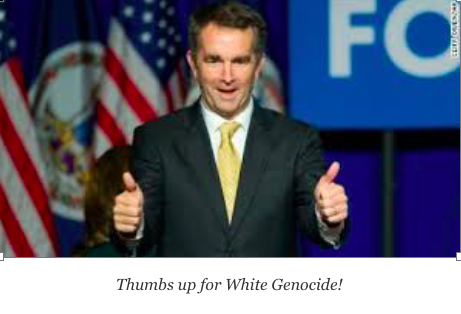 February 4, 2019
Governor Ralph Northam of Virginia is just one more white anti-white who has built his political career on supporting White Genocide, but now he's being stuffed into his own wood chipper and a non-white may move into his position.
When you were young, Ralph, you once (or was it twice?) wore blackface, so good-bye to you, buddy. From anti-whites everywhere, it's thank you, Ralph, for having supported White Genocide and having played that role so well, but now it's time to recast you.
But let's look back fondly at your closing remarks in your victory speech as Governor-elect, a sweet moment for you, when you and the elimination of your race walked hand in hand toward a bright non-white future:
"We will not condone hatred and bigotry…we live in a very diverse society, it is getting more diverse every day. It is that diverse society that makes this country great! And as long as I'm governor I will make sure that we're inclusive, that we welcome people to the Commonwealth of Virginia. Our lights will be on! Our doors will be open!"
Probably Ralph Northam isn't feeling too well today. Could that be because
White self-hatred is SICK!!!
_________________________________
Virginia Governor-Elect Ralph Northam Vows "Open Door" to White Genocide