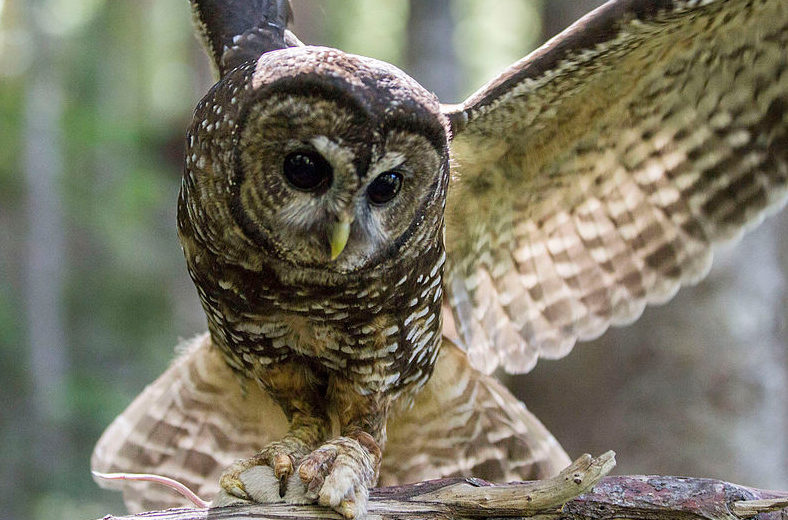 February 1, 2019
Protect white people as well as we protect spotted owls – block white genocide!

When barred owls seek a better life by migrating into spotted owl territory, the U.S. government actually shoots them (goo.gl/gHFRg3), to prevent their interbreeding with the spotted owls and blending them out of existence.

But when it's white humans instead of owls that need protecting, it's another story. When large numbers of non-whites seek a better life by migrating into majority-white countries, our governments welcome them, and use laws and propaganda to encourage white citizens to assimilate and interbreed with them, until whites are blended out of existence.

Urge Congress to repeal laws that uphold this white genocide, and to proclaim these truths:

"Diversity" means chasing down the last white person.

"Diversity" is a code word for White Genocide.

White self-hatred is SICK!
150 initials on that message will display it on the White House's website for the rest of this month.
It works to put just initials in the two name boxes.
The website of the White House is an extraordinary place to be able to post the Stop White Genocide memes as part of our project of driving those memes into the mainstream.
Add initials and be a part of the project!
Anyone anywhere in the world can initial the message!
There was some enthusiasm for making the following our submission this month, but wiser heads prevailed:
SJW's for owl equality demand open borders for barred owls and an end to bloody spotted owl supremacy and privilege

If a barred owl family seeks a better life by migrating into "spotted owl territory," it's shot by the U.S. Fish and Wildlife Service (goo.gl/gHFRg3).

We at Species Justice Warriors Network support owl diversity and protest this lethal discrimination against barred owls. Nature is inclusive and knows no borders. All forests belong to all owls.

The claim that spotted owls will be blended out of existence if barred owls are allowed to flood into "spotted owl territory" is just racist hate toward barred owls. Critical owl theory demonstrates that there's only one race of owls, "the owl race." (goo.gl/Zc1BmQ)

All owls are created equal. Owl diversity is our forests' greatest strength. Bar from future employment the haters who claim that owl diversity is a code word for spotted owl genocide.
We decided that one might obscure our point too much to the audience we're trying to reach.
Your initials on the first one are appreciated!


This month's White House message is adapted from eyeslevel's article on this site, "Spotted Owl Supremacy?"