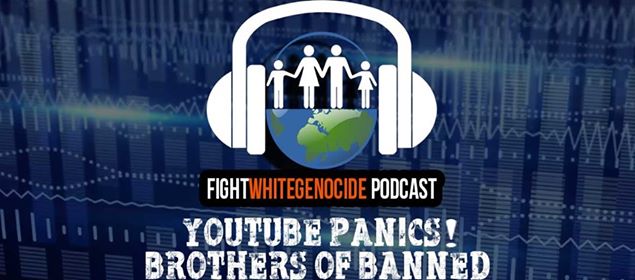 June 19, 2019
The crew discuss the recent purge by YouTube of heretics to the Religion of Political Correctness and their ridiculous justifications for political censorship.
2:44 Did we cause the purge?
7:46 Destroying supremacy.
10:41 The end of censorship is the end of the regime.
13:20 YouTube blog post censorship announcement.
14:17 Calling disagreement "hate" is childish.
16:05 Self-serving media/academia complex protecting its power.
16:29 Consulting "experts."
17:13 Censorship causes violence. YouTube wants violence.
18:58 Bob on fake vs real censorship.
20:30 They're admitting they don't care about free speech.
21:15 Respectable Conservatives never talk about real censorship.
21:34 The REAL reason for this purge is to silence exposure of white genocide.
22:10 Anything government requires you to believe is a lie.
22:26 YouTube blog post cont'd specific actions.
27:06 Supremacy, superiority and separatism are all different things.
28:16 Separate to protect non-whites from oppression. Access to whites is a human right?
29:51 Separation is better than forced integration.
32:16 YouTube's reasons for censorship are ridiculous.
32:30 CBS inciting violence.
33:20 A Respectable Conservative's job is to protect leftism.
35:05 Religion of Political Correctness.
35:40 Did Hitler talk about Jews like anti-whites talk about white people?
38:15 YouTube blog post cont'd event denial.
39:15 Truth
40:32 The minute they let off on the censorship, they're done.
42:22 To destroy the system, focus on white genocide
43:40 Alt-lite never defend our right to speak.
44:44 YouTube blog post cont'd allowable content.
47:44 We say nothing extreme.
50:11 Anti-whites have no shame, you have to repeat.
51:15 Get anti-whites on the defensive.
52:35 Intent
53:59 YouTube blog post cont'd allowable content.
54:54 Community Decency Act of 1996 Section 230 Internet platform indemnity.
58:39 YouTube blog post cont'd rewarding supporters of political correctness
59:00 It's not about money, corporations are not in charge, Big anti-white is.
1:02:37 Pete Wilson
1:03:39 Contradictions, discrimination
1:05:26 Driving people into our camp.