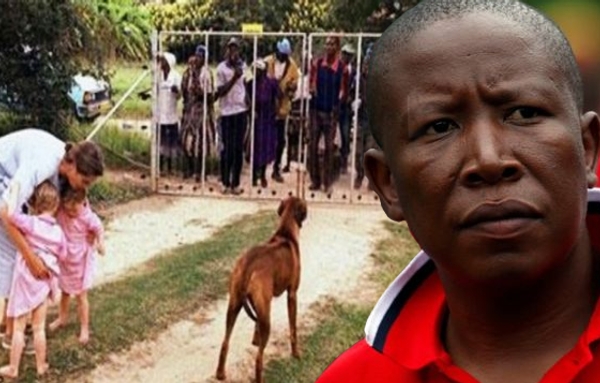 April 7, 2018
At last the nauseatingly brutal horrors (followed by death) that have been committed against hundreds of white farmers in South Africa over the last many years are reaching the consciousness of white Americans via the internet (certainly not via "mainstream" news!)
If you google to find out just what those horrors are and have been, you may wish very strongly that you hadn't.
Reassurances that the outlook for white farmers would be rosy in the years ahead were given a few years ago by Julius Malema, former president of the African National Congress (ANC) Youth League and present leader of the Economic Freedom Fighters (EFF) political party, and  Mbuyiseni Ndlozi, national spokesman for the EFF:
We do offer a caution: our great sympathy and concern for our racial kin in South Africa must not blind us to the fact that there's a much larger and much more lethal White Genocide that's being carried out in majority-white countries world wide today, by massive third-world immigration and forced assimilation. Just as with the genocide of white farmers in South Africa, the manufacture of justifications for that larger genocide (as if there can be justification for any genocide) keeps an industry of anti-white "intellectuals" in rich clover.
The White Genocide that's being carried out world wide today is being carried out by flooding majority-white countries with millions of non-whites and forcing assimilation of whites with those non-whites through laws and propaganda, which will result in whites being inter-bred out of existence or reduced to a very small number.
Queen Ann (or "Iron Ann," as some pro-whites are calling her this morning!) points out in the video above that as majority-white countries become minority-white countries like South Africa, there is no reason to think that the hatred of whites that is being preached world-wide today won't cause the South African style of White Genocide to catch up with the immigration-and-assimilation style of White Genocide.
Genocide is genocide, no matter how it's done.