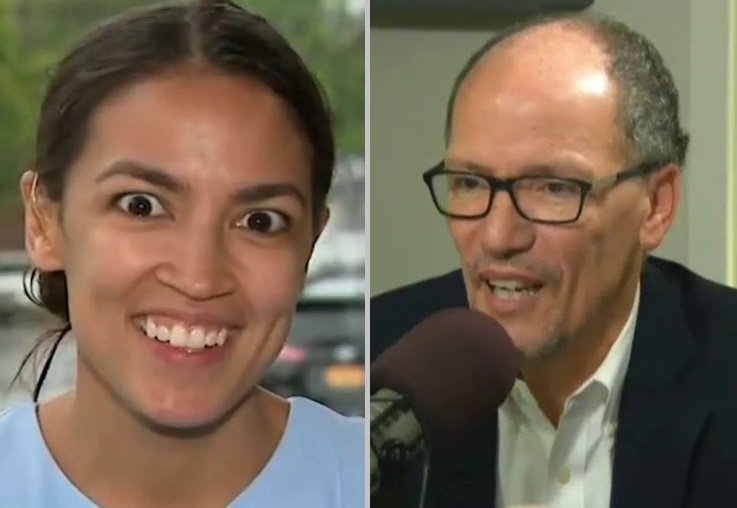 July 3, 2018
"The Anti-White Party," "The Pro-#WhiteGenocide Party," "The Party that supports 'Chasing Down Whites with Diversity,'" and "The Party that denies that 'White Self-Hatred is SICK!!!'"
That's the Democratic Party of the recent past, present, and future. Of course that's also the recent past, present and we hope not the future of the Republican Party.
Bill Press: There was a primary…up in New York where the 4th most powerful Democrat in the United States, Congressman Joe Crowley was knocked out by a young woman, Alexandria Ocasio-Cortez­­­ – 28 years old – never ran for office before – big progressive – calls herself a Democratic socialist, actually like Bernie Sanders did – she was a Bernie Sanders supporter… What's this tell you about where the Democratic Party is going today?

Tom Perez: Well, my daughters – I have 3 kids, two of whom are daughters, one just graduated college, one is in college, and they were both texting me about their excitement over Alexandria because, you know, she really represents the future of our party. She ran a spirited campaign.

DNC Chair Tom Perez Declares Socialist Ocasio-Cortez "The Future Of Our Party"
From a campaign flier distributed by Ocasio-Cortez's headquarters:
Immigration justice: protect DREAMers & TPS [Temporary Protected Status] recipients, simplify the path to citizenship and abolish ICE

What Ocasio-Cortez wants for America after beating Joe Crowley
"Simplify the path to citizenship and abolish ICE." 
Translation: "Remove any and all impediments to the rapid completion of White Genocide."
Of course White Genocide is a much larger problem than just illegal aliens. Illegal or legal, non-whites will blend whites out of existence if enough of them flood, or have already flooded white countries, and integration/assimilation with them continues to be forced by law and by propaganda.
No school, no town, no country is allowed to be White.
"We have found some White people, chase 'em down, bring in minorities…"
"Diversity" means chasing down the last White person.
~~~~
Be a Stop White Genocide "Repeater Rifle"!