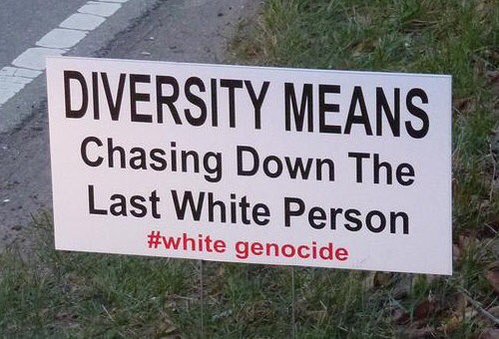 June 30, 2019
Let's continue hammering the fact of White Genocide into the mainstream. Anti-whites have built strong defenses in white minds to protect the sanctity of the anti-white deities they've taught whites to worship, but they've failed to adequately defend against pro-whites waking up whites to the core fact of White Genocide.
Here's a comment made to a popular pro-white podcast that aired today — the quoted statement was made by one of the program's hosts:
"An Alinskyite strategy, a Gramscian strategy…taking the commanding heights of the culture…is the kind of strategy we have to pursue…taking back the public space, taking back the culture…that is absolutely the winning strategy."

IMO doing that by attacking all the things that anti-whites have succeeded in making holy is the hard way. The "easy" way is to hammer the White Genocide meme and its simple understanding and supporting memes into the public arena until they become normalized. White Genocide is also the thing that matters. Even if pro-whites succeed in knocking over all the false idols erected by anti-whites, that won't necessarily put White Genocide in the front of white minds and in the front of public discourse.
What do you think? I think that rather than attacking a stronger enemy's most fortified positions, slip around the enemy's flank where the thing we're truly fighting against — White Genocide — is actually located and is weakly defended.
I'm not going to attack positions that anti-whites have been fortifying in white minds for decades when anti-whites have neglected to fortify the very thing that's fundamentally important!